Each year, many Richmond Law graduates set out on a 100-mile journey up I-95, heading north to Washington, D.C. There, they join an influential, growing cohort of alumni in the land of opportunity for lawyers.
They go for many reasons: to work in a vibrant, challenging marketplace of ideas, to build their résumés, to perform public service, to make a good living, to break into a particular field, to promote a specific cause. They go to do something meaningful with their lives in the law.
"Students see D.C. as a place where they can have real impact," says Janet D. Hutchinson, associate dean for career development.
After Richmond, the district is the most popular destination for recent graduates, she adds. About 10 percent of recent classes have landed there. And they're not alone — Washington has the highest per capita number of lawyers of any U.S. city.
"D.C. offers a robust legal market with tons of legal work related to government, as well as opportunities in litigation, corporate — just about any field," says R. Kenon Poteat III, L'06. He went to Washington nine years ago after clerkships with a U.S. District judge in Virginia and the 5th U.S. Circuit Court of Appeals in New Orleans.
He was looking at private firms with an interest in litigation, and Williams & Connolly, "one of the best," made him an offer. He's been there since. "You can do a lot of things here with a law degree."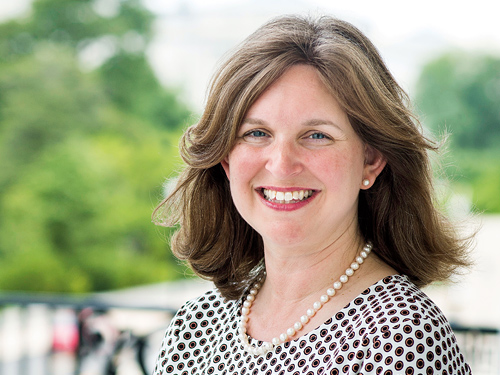 Shelley Hanger Husband, L'98
Chief of staff and general counsel
House Judiciary Committee
When you think of Washington, you think of the U.S. government, and Richmond Law is well represented among the professionals who work in important positions there, outside the hype and glare, to keep things on track for the benefit of the country.
Shelley Hanger Husband, L'98, is chief of staff and general counsel to the House Judiciary Committee, one of the busiest, most important committees in Congress. The committee has jurisdiction over such issues as criminal law, intellectual property, immigration policy, the judiciary, and the Constitution, as well as oversight of the departments of Justice and Homeland Security, the federal courts, and law enforcement agencies such as the FBI.
Husband keeps an eye on the committee's budget, manages its staff, and works with the chair to set and implement its priorities through its legislative and oversight agenda. She is an adviser and counsel to the chair and is the committee's staff liaison to House and Senate leadership and the White House.
Husband's ties to Washington began in college when she interned with Virginia Rep. Bob Goodlatte. After law school, Goodlatte brought her back to work as a district representative. She moved through a series of assignments there for more than 18 years, rising to her current post after Goodlatte became committee chairman.
Now, with the change of administration, Judiciary, which has primary jurisdiction over immigration policy and surveillance laws, is at the forefront of the public debate over these hot issues.
"Any time there is a change in the administration, but particularly when the administration switches to the other party, it's an especially interesting time in Washington," Husband says.
"Working in Washington, and especially on Capitol Hill, is fast-paced, challenging, and no two days are ever the same," Husband says. "I appreciate having the ability to impact the process and effect policy change."
Jay Khosla, L'05
Policy director
Senate Finance Committee
Washington is home for Jay Khosla, L'05, who grew up in Northern Virginia and returned after graduation to pursue a fellowship on Capitol Hill.
"Luckily, I went to work for [Tennessee Sen.] Bill Frist, who was majority leader of the Senate," he says.
Today, Khosla is policy director for the Senate Finance Committee, a job he describes as "incredibly challenging." His dual degree — a J.D. from Richmond and a master's in health administration from Virginia Commonwealth University — prepared him well for the work.
On the way to the Finance Committee, Khosla worked for Frist, then for Sen. Judd Gregg of New Hampshire, who was Senate Budget Committee chairman. He went on to be chief health adviser to Sen. Orrin Hatch of Utah during the debate over the Affordable Care Act.
Khosla's career took a memorable detour in 2008 when he served as chief health policy adviser to Sen. John McCain of Arizona during his presidential run.
"That was a once-in-a-lifetime experience," Khosla says. "One day I'd find myself in Silicon Valley, the next day in a cornfield in Iowa."
When Hatch became the top Republican on the Senate Finance Committee, Khosla landed with "the committee that has the widest jurisdiction in the U.S. Congress." International trade, the tax code, federal health care programs, and Social Security all fall under its jurisdiction. "Almost anything that moves comes through us."
In 2013, Khosla became policy director for the committee. The job means "a lot of long hours. It's very demanding. But it's well worth it. I interact with the entire Senate. I work with a lot of smart people. I've had great bosses."
And he's always busy. "I may be figuring out a problem in the Medicare program or meeting with foreign dignitaries on international trade issues. Right now we're neck deep in health care and tax reform."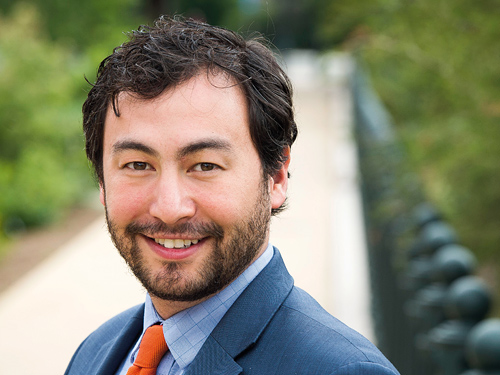 Shaun Freiman, L'15
Subcommittee counsel
House Committee on Ways and Means
Shaun Freiman, L'15, followed a circuitous route to his current post as subcommittee counsel at the House Committee on Ways and Means — but D.C. was where he always wanted to be.
"I had worked between undergraduate school and law school on the Hill and as a congressional relations staffer for an executive branch agency. My goal was to return to D.C. as counsel."
The proximity to Washington was a factor in his choice to come to Richmond Law from Michigan.
Freiman spent his 2L summer working for a Senate committee with the help of a summer fellowship for public sector positions from Richmond Law.
At Ways and Means, he interacts with committee and subcommittee members and their staffers.
"Interesting people come through the door all the time — and not just from government," he says. Sports stars and celebrities show up to promote pet projects. Meeting astronaut Buzz Aldrin was fun.
"It's exciting work, incredibly fast-paced," Freiman says. "I have to respond quickly but accurately to changing events. And there are always questions of law.
"There's structure to my day, but that can fly out the door any minute. I have to be on top of what happened the day before and understand how that might affect my boss's policy initiatives.
"As the day progresses, I do what has to be done."
Staying on top of so many things is a challenge, he says, and because Congress is a deliberative body, you don't always see where your work is going: "You've got to keep your eye on the ball."
Even if you don't intend to make a career in Washington, Freiman says time there is valuable.
"It's great to have an understanding of how government works, to know the processes and the players. And it's a great place to be. There's a lot of energy in this city."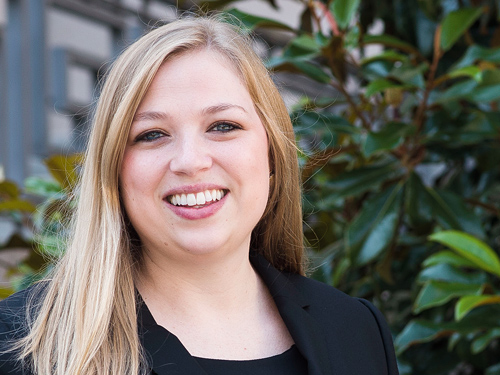 Jacquelyn Bolen, L'15
Health Subcommittee, House Energy 
and Commerce Committee
Working in government relations between college and law school gave Jacquelyn Bolen, L'15, her first taste of life in Washington.
"Richmond was attractive in that I could be in the state capital," she says. An internship at the Virginia Poverty Law Center was a powerful experience, "but I loved D.C. and wanted to get back."
Today, Bolen works for the Health Subcommittee of the House Energy and Commerce Committee.
These are "interesting but difficult times," she says of her work on health care during the transition between starkly different administrations.
"Health care is an interesting, thorny issue," she says. "Part of the reason I got involved was I was a proponent of the Affordable Care Act. What I saw with the Virginia Poverty Law Center increased my awareness of how health care affects every person."
She focuses on women's health issues like family planning at a time when advances under ACA are threatened, she says. "We are working to make sure protections for women aren't rolled back," she says. "We're playing defense a lot of the time. It's great to apply my law skills in an area of interest."
. . .
Husband quotes the maxim often attributed to President Ronald Reagan: "There is no limit to the amount of good you can do if you don't care who gets the credit." While Washington and humility may not always seem compatible, she says, many people working there seem to live by this creed.
As for the contentious environment the public sees, Khosla says, "the pendulum swings. It's never as good or as bad as people think. There are a lot of people here who are devoted to public service. We all work for the good of the country. Anyone who has been here long enough knows patience is a virtue, and we will work our way through it."
The D.C. externs
Richmond's proximity to Washington, D.C., brings top students who are interested in working in the nation's capital. A growing number of them are participating in the D.C. Externship Program, now in its third year.
This August, nine Richmond Law students will begin externships with agencies including the Department of Agriculture, the Environmental Protection Agency, and the Federal Communications Commission. That's an increase from four in the program's first year and six in its second.
Students who land the four-month, unpaid placements earn 13 credit hours for 500 hours of substantive legal work, says Stephen Allred, University professor and director of the program. "They can use these externships to find out what it's like to work in government, with interest groups and nonprofits," he says. It's also a chance to network as they look ahead to careers in D.C.
Grayson Orsini, L'18, landed a rare externship with the U.S. State Department that will put him in the middle of the action in Washington as the Trump administration promises sweeping changes in foreign policy.
"International law, diplomacy, and international relations interest me," says Orsini, who has already passed the Foreign Service exam. "And I'll work on issues that show up on the national news. We'll deal with NAFTA, the Keystone pipeline, issues like those. If I can make it into a career, I will. I'm going for it."
The externship program was one of the reasons Lindsay Lehmen, L'18, chose Richmond Law.
"I wanted real-world experience in D.C.," she says. As an undergraduate, she interned in the U.S. Justice Department and wanted to get back. "People seemed driven toward the best outcomes."
Her placement with the department's Office of Human Rights and Special Prosecutions is "my dream job. This pushes me toward my goal."
I really had to learn to think fast on my feet. 
It was such a great experience. This is where 
I want to be.
Last year, Celtia van Niekerk, L'17, who came to Richmond from South Africa, tacked a fall externship onto a summer internship with the Washington office of the Attorney General, which handles misdemeanors, housing code, driving violations, juvenile offenses, and gun crimes, among others, in the district. The combined six months provided "a better experience than I could have ever imagined," van Niekerk says.
After being trained in the busy office, she found herself in court handling cases and making charging recommendations.
"I really had to learn to think fast on my feet," she says. She applied for a full-time job with the office after graduation. "It was such a great experience. This is where I want to be."
The externship program is a response to the increasingly competitive marketplace for lawyers and to shifts in what employers want in new hires.
"Employers are looking for people with skills that make them useful from the beginning," says Allred, who holds classes for the externs weekly in Washington as part of the program's academic component.
Those meetings are held in a conference room at the Williams & Connolly firm through the courtesy of R. Kenon Poteat III, L'06, a partner at the firm. Poteat is part of the growing Richmond Law alumni network in Washington.
The D.C. Externship Program had not begun during his law school years, but Poteat took advantage of clinical experiences. He saw the legal profession from top to bottom, working in the Virginia Supreme Court and in a county prosecutor's office.
"These programs are what separates Richmond from a lot of other good law schools," Poteat says, "and it's invaluable to employers to get people with that experience."
As for working amid the D.C. tumult, Orsini says, "I love that kind of environment. That's where I want to be."
Rob Walker is a writer and editor who lives in Richmond. He was a writer for the Richmond Times-Dispatch and is the former editor of Richmond Law magazine.