In 2014, Dujuan Farrow, an inmate in a Pennsylvania prison, received a letter from Mary Kelly Tate, a law professor at the University of Richmond.
President Barack Obama's administration had just announced its Clemency Initiative, inviting qualified federal inmates to petition to have their sentences commuted. Pro bono organizations around the country were banding together to help submit petitions — including the Institute for Actual Innocence at the University of Richmond School of Law.
In the letter, Farrow read that this law professor he didn't know had reviewed his case and believed he stood a chance. She asked to take on his case and submit a petition on his behalf.
She offered no promises, but this was Farrow's last hope, his last shot at a life outside the prison walls that had surrounded him for 12 years.
He decided to take it.
'This is simply not right.'
In 2010, when President Obama signed the Fair Sentencing Act to address disparities in sentencing for offenses involving cocaine, thousands of people had already been sentenced to harsh punishments under the previous mandatory minimum guidelines. In response, the White House announced new clemency criteria that would allow some of them to qualify for reduced sentences.
"There are still too many people in federal prison who were sentenced under the old regime — and who, as a result, will have to spend far more time in prison than they would if sentenced today for exactly the same crime," then-Attorney General Eric Holder said in an April 2014 video message announcing the Clemency Initiative. "This is simply not right."
Following Holder's announcement, lawyers around the country jumped into action. The American Bar Association, the National Association of Criminal Defense Lawyers, the Federal Defenders, the American Civil Liberties Union, Families Against Mandatory Minimums, and other volunteer lawyers and organizations formed a national network to identify qualifying candidates and offer pro bono legal assistance.
Richmond Law's Institute for Actual Innocence was one of those organizations. Mary Kelly Tate, founding director of the innocence clinic, reviewed at least 25 potential cases. Along with a group of law students enrolled in the clinic, she identified three candidates whose sentences they considered too severe. One was released through another form of sentencing reform. Another case had elements that were beyond the resources of the innocence clinic.
And then there was Farrow.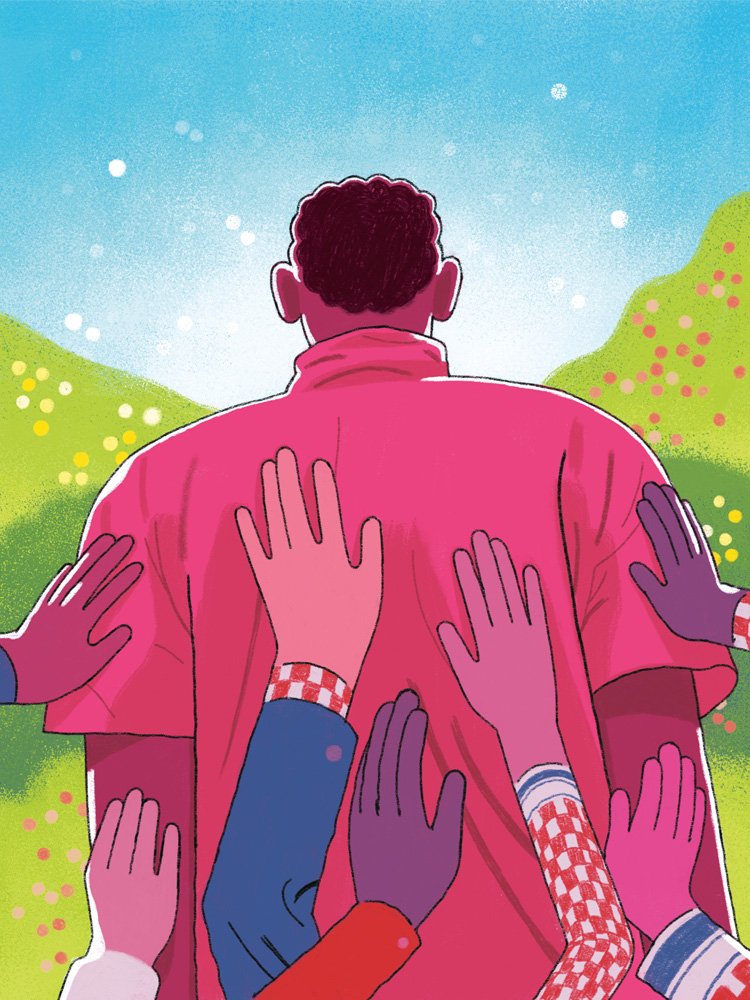 Farrow was sentenced to life in prison in April 2015 after he was found guilty of conspiracy to distribute and possession with intent to distribute 50 grams or more of cocaine. Tate believed the evidence showed Farrow had a drug addiction but wasn't a drug dealer — he was simply in the wrong place at the wrong time. At the time of his arrest, he was a passenger in a car that contained cocaine. The driver, a childhood friend, had secured the drugs.
Farrow's friend, who Tate says was more culpable, took a plea deal and received a 10- to 15-year sentence. Farrow, believing he was innocent, opted for a jury trial and was hit with a mandatory life sentence — a punishment that would never be given under today's standards.
"What struck me about the case is, I felt it was a humanitarian problem," Tate says. "There was such a gap between the conduct that he was charged with versus the punishment."
Farrow didn't have a violent history and was a model prisoner throughout his incarceration. His history, combined with a sentence that would be considered too harsh if he were convicted today, made him a strong candidate for clemency.
"There was basically a six-point test — six factors that Attorney General Eric Holder set forth for the Obama administration in terms of who would be worthy of a commutation," Tate says. "Mr. Farrow perfectly fit all six factors."
Still, more than 33,000 inmates submitted petitions for clemency during Obama's presidency. By January 19, 2017, his last full day in office, only 1,715 individuals would receive it.
'This innate sense of wanting things 
to be right'
"I've always been interested in the institutional aspects of the justice system — the rules and rights that make it as great as I think it is," says Carter Nichols, L'16, a student in the innocence clinic who was assigned to Farrow's case. "I have this innate sense of wanting things to be right and for decisions to be right."
That drive was at the heart of Nichols' work with a Virginia delegate trying to change the state's writ of actual innocence process — where he first met Tate — and his decision to sign up for Tate's Institute for Actual Innocence once he enrolled at Richmond Law.
The clinic comprises a small group of second- and third-year law students who spend a semester reading cases and case law, and forging an understanding of the structural components that may lead to faulty outcomes in criminal trials. They study legal theory and the many causes of wrongful convictions. Then they partner with attorneys and community leaders to seek post-conviction relief for a wrongfully convicted prisoner in Virginia.
Much of that preparation went out the window when they took on a clemency case.
Actual innocence and clemency cases are in the same arena of post-conviction work, but the processes and purposes are wildly different. In wrongful convictions and actual innocence cases, lawyers look for problems with the case itself, like DNA evidence, improper interrogation and confession, prosecutorial misconduct, or ineffective counsel.
With clemency, there's no argument about the merits of the case or the conviction. Rather, it's an equity-based plea for leniency. No one questioned whether Farrow was guilty, only whether the penalty levied against him was too harsh. Students had to quickly learn the complexities of federal sentencing — an area of the law that wasn't covered in Tate's seminar.
There's also no guarantee that meeting the qualifications for clemency will lead to release. Lawyers have to weave a narrative that tells a human story about the individual, his circumstances, and his potential life after release.
"You have to show the client as the fully fleshed out human being that they are, rather than the crime that was committed," says Brandon Benchoff, L'15, another student in the clinic.
As Tate and the students set out to build that narrative, they began with a comprehensive review of Farrow's case: his criminal indictment from the very beginning, his pre-sentencing report, and his post-conviction appeals for relief. They looked at how he spent his time while incarcerated, including his behavior, his communication with family, and the technical classes he completed.
"It took me days, if not weeks, to read every piece of paper in his files," Benchoff says. "By the time I closed the file, I had a hard time thinking anything other than, 'This guy would be a perfect candidate for clemency.'"
One of the biggest differences between actual innocence and clemency cases involves the petitioner's post-release plan. These plans aren't relevant to decision-makers in innocence cases and, as a result, weren't an area of focus in the first semester. When they took on Farrow's case, Tate spent a great deal of time communicating the absolute necessity of a compelling post-release plan in a clemency petition.
Developing the plan required students to interview Farrow and his family members and detail his support structures should he be granted clemency. "It's not only that there are legal justifications for granting clemency," Nichols says, "but that it's the right thing to do because Dujuan is the type of person who would take this second chance at life and use it to become a contributing member of society."
In the fall of 2015, Tate submitted their petition, hoping Farrow's story would break through the thousands of cases making their way to the Department of Justice.
And then, they waited.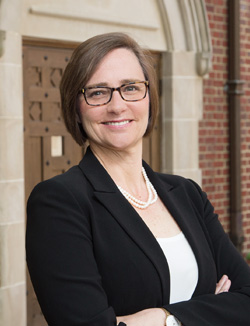 Exonerating the innocent
Students in the Richmond Law Institute for Actual Innocence take a lead role in investigating and litigating Virginia felony cases in which there is credible evidence of a convicted person's innocence. They also handle other post-conviction matters.
Under the direction of law professor Mary Kelly Tate, students learn about crime laboratory protocols, false confessions, eyewitness identification, and indigent defense. They put that knowledge into action on actual cases, interviewing witnesses, analyzing records, talking with experts, and developing case strategies. In addition to Dujuan Farrow's case, the clinic used DNA to exonerate a Woodbridge, Virginia, defendant after he served 36 years for a triple abduction he didn't commit.
Clinic students have proposed legislative reform for wrongful convictions; written briefs for litigation in the Virginia Supreme Court; and sought cutting-edge DNA testing through a motion to a Virginia circuit court.
"They are encouraged, through the clinic experience, to see that the work they do matters," Tate says. "I think it's hugely important that a criminal justice system has actors within it who see the importance of the work they do and see that the work they do needs to have integrity, needs to be high-quality, needs to be human-centered, and needs to see the big picture rather than a win-loss mentality."
'Mary, the pardon office called.'
As 2016 came to a close and the January days began ticking by, Tate had a sinking feeling. President-elect Donald Trump was building his cabinet, and the political landscape was shifting.
Every few weeks, Obama would announce a new list of people whose sentences were commuted. But Farrow's petition had been met with only silence.
"When each batch would come, and his name would not be in it, I would just feel sick to my stomach," Tate says. "My heart would be heavy with that knowledge that time was running out. Once Barack Obama left office, it was unclear what another administration would do."
She began rehearsing the conversation she expected to have with Farrow. It would be one of the hardest in her career, comparable only to the conversations she had with a death row inmate in the 1990s. The U.S. Supreme Court had ruled against him. Tate, then a young lawyer, was with him for the journey, from learning the news of the ruling to spending his last day with him in a Virginia death house.
"Twenty-one years later, this conversation [with Farrow] would have a similar despair," Tate says. "It has the feel of palliative care. I would be telling a client, 'There's nothing more we can do.'
"Sometimes I think of post-conviction work in terms of oncology, where there are certain cancers that don't have a high success rate. Those conversations never get easy for doctors, and they certainly never become easy for post-conviction attorneys."
When each batch [of clemency announcements] would come, and his name would not be in it, I would just feel sick to my stomach.
In the final days of Obama's term, on Jan. 17, Tate walked into the clinic office after a day of meetings. Margie Zapata, the clinic's administrative assistant at the time, called out, "Mary, the pardon office called."
"My heart leapt," Tate says. "I knew that they would not be calling for any other reason than to say that relief had been granted. With three days left, Mr. Farrow made it, very deservingly, across the finish line."
Pardon office protocol allowed representing attorneys to deliver the news to their clients. Farrow was brought to a private room and told only that he would be getting a call. At 3:30 that afternoon, Tate dialed the phone.
"That was one of the most joyous phone calls I ever got to make," she says. "It was so humbling to hear his joy and how thrilled he was and how grateful he was. It's really been one of the treasures of my 26-year legal career to have that moment."
That same afternoon, at his desk in Norfolk, Va., where he works as a federal law clerk, Carter Nichols opened his email to find a message from Tate with a nondescript subject line. In carefully measured words that come from years of working in uncertainties, Tate told the clinic students about the outcome. "I was just floored," Nichols says. "It was surreal to think that we had checked all of the right boxes and gotten his story in front of the right people — and they saw what we saw."
Brandon Benchoff was "overjoyed" at the outcome, but says the credit belongs to Farrow. "He's the one who led this life. He's the one who's been sitting in prison all this time," Benchoff says. "All we did was tell his story."
Still, Nichols says the process crystalized the role that lawyers can play outside of the courtroom. Any inmate can file a clemency petition on their own behalf, he says, but the process is cumbersome and time-consuming. It takes legal training to navigate it successfully.
"[Farrow] and many others around the country had teams of lawyers and law students poring over documents, making sure every small procedural requirement is met and every administrative box is checked," Nichols says. "You just get a sense of the value of yourself and your education and training."
Benchoff is now an assistant prosecutor in Morgantown, West Virginia, and says his experience with the actual innocence clinic makes him a better prosecutor. It reinforced his belief that both defense and prosecuting attorneys should be working toward the same outcome: a just result.
"I want to treat everyone I interact with as a human being," he says, "and do what is fair and just under the law."
After 12 years in prison, staring down a lifetime to go, Farrow is scheduled to be released at the conclusion of a re-entry program, approximately a year in length. He is in his early 40s. Actuarial calculations say he could — and Tate hopes he does — live for another 40 years.
"To be given back four decades by President Obama must have felt like something otherworldly," Tate says. "I think there's a tremendous bravery to opening yourself up to hope. I think that there's a vigorousness to a person's character who can, in the face of extraordinary odds, maintain hope.
"Mr. Farrow was that kind of person."
Kim Catley is the editor of Richmond Law magazine.