More and more, Richmond Law students are stepping outside the classroom to enhance their curricular experiences, working with real clients in legal clinics, offering pro bono services, or participating in courses with simulated legal activities, some very far from campus.
Call it "experiential," call it "community-based learning," or call it putting law into practice. The end result is students who are exposed to valuable work — and life — experiences that they can put to use at their first post-graduate job and throughout their careers.
Sports and scandals in South Korea
For his Corruption in International Sports course, Andy Spalding has his sights on the biggest international sporting event of all, the Olympics.
Global sporting events such as the Olympics and the World Cup can be a critical launch point for anticorruption reform. With the whole world watching, host cities and countries have to consider the laws, practices, and cultural norms that surround the event — and enact policies that may endure well after the games are over.
The 2018 Winter Olympics in South Korea provided a backdrop for examining anticorruption reforms on a broad scale as the class researched and discussed bribery, money laundering, bank secrecy, and tax evasion. But, as Dustin Knight, L'18, put it, "You can get up to a certain point, and then you have to be on the ground to really appreciate some of the laws that you're researching."
Eight students got that ground-level view when the class flew to South Korea for a week in March.
Take, for example, the Improper Solicitation and Graft Act, known colloquially as the Kim Young-ran Act. Students read all about how the bill introduced tougher punishments for bribery — but nothing compared to the experience of sitting down at a table at Songang University with Kim Young-ran, the former Korean Supreme Court justice who authored it.
"You can read a statute, and you can understand its provisions, but it's very difficult to understand the implications — until you talk to the drafter," Knight said.
This is the second time Spalding has taken a group of students abroad to study anticorruption and the Olympics. In 2015, a Richmond Law team visited Brazil to study reform efforts in the lead-up to the 2016 Summer Games in Rio de Janeiro and published an e-book with their findings. Spalding is following a similar model for the students examining the 2018 Winter Games in Pyongchang.
Conversations with South Koreans, like the one with Kim Young-ran, led to a better sense of the cultural implications of anticorruption reform. "It's a fundamental cultural pivot in the way [South Koreans] think about government, business, human relations, even appropriate expressions of affection," Spalding said.
He explained that giving gifts — to government officials, professors, even journalists — is a common cultural practice to show respect. The Kim Young-ran Act, however, makes such gifts illegal. "To hear people speak … with real emotion about the way this law is changing the way they live and the way they interact with each other, it makes an impression on you that the law as written on the page does not," Spalding said.
The visit to South Korea came at a tumultuous time in the country's history: the impeachment of then-president Park Geun-hye following a corruption scandal. Amidst protests and celebrations, students also saw citizens collapsing on the sidewalk in tears, "not just about the removal of the president but of the vulnerability they felt to attack from North Korea," Spalding said. "That is something you can't feel, you can't understand, until you have felt it from people."
And, added Knight, "You realize that you're a part of a historic moment in Korea as a complete outsider" — a realization that couldn't take place in a classroom in Virginia.
Beyond the international experience, the yearlong course and book project are a perfect opportunity for building both legal knowledge and soft skills, Spalding said. Law schools have a reputation for not emphasizing or valuing interpersonal skills — an impression Richmond is working to reverse.
"Because we recognize how important those interpersonal and teamwork skills are to the practice of law, this class is a very concentrated opportunity to develop those skills," said Spalding.
The result is pretty impressive. "These are real legal issues that exist in the world, and the students are putting their skills to use to understand these issues and to suggest reforms," explained Spalding. "A number of ideas that I think will get some traction in the reform debates have come directly from the students."
Reporting research at the U.N.
Skill-building is at the heart of Chiara Giorgetti's new international law practicum course. Students tackled four research projects for international clients, ranging from a judge of the International Court of Justice in the Hague (who requested a report on how tribunals use expert witnesses) to the World Bank's International Centre for Settlement of Investment Disputes (which sought research on the code of conduct for arbitrators in foreign investment disputes).
"All four of the projects made us feel like we're not just law students," said Kate Desai, L'18. "We're actually interacting with international law in the real world."
One project connected the class with the United Nations, where Giorgetti had previously worked as a program officer. During a partnership with the Codification Division of the U.N.'s Office of Legal Affairs, students reviewed a questionnaire distributed by the International Law Commission, which asked member states to identify their sources of customary laws — those "unofficial laws" established by custom. Their goal was to identify not what the legal principles were, but where they could be found.
They began by looking at 14 countries (such as Eritrea, Comoros, and Pakistan) and a number of international organizations (including the International Olympic Committee, the Commonwealth of Independent States, and the Caribbean Community). Students were matched with countries by language abilities and interest.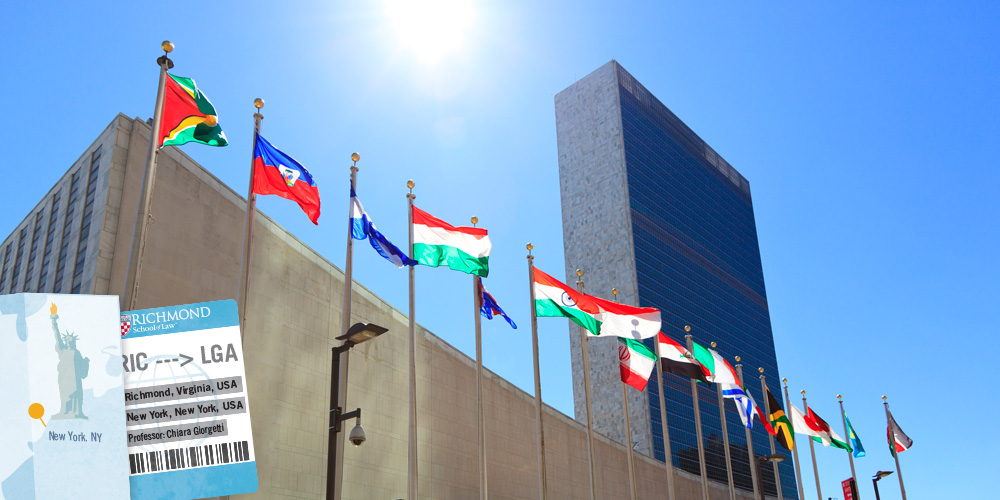 Each country's archives, government structures, social media use, and more were all taken into account and examined as sources of customary law. For example, if a student was looking at customary law surrounding a country's use of force in humanitarian interventions, one source she might examine is the equivalent of that country's Supreme Court rulings.
For most, this meant a series of web searches: finding sites, chasing links, sometimes translating the page's content into English. When the web search yielded unfruitful results, the students turned to print resources.
The end result was a presentation of their findings to U.N. officials in person in April — and they were the only research team from the United States to participate in the project. The visit to New York "was this surreal experience," said Kendra Smith, L'17, that "pull[ed] the U.N. out of books and TV" and made it real.
"We weren't just visitors," Desai added. "They were looking at us as the authorities on the countries [we researched]."
The projects not only taught the students research skills and exposed them to principles of international law, but also gave them a sense of what a career in the international law field might look like.
"If you work for the United Nations, this is an example of what you could do," Giorgetti said.
Grayson Orsini, L'18, added, "I think it grounded me in what international law really is and what it entails."
A backyard backdrop
While South Korea and the U.N. offer exciting backdrops to legal learning, Richmond Law students have plenty of opportunities for outside-the-classroom learning closer to home.
Tara Casey, director of the Carrico Center for Pro Bono and Public Service, had considered teaching a poverty law course for some time. But she kept running into one key problem: "I don't think you can teach poverty law in this building," she said.
Part of that misgiving was based on the nature of poverty law itself. In her research for the class, Casey kept coming upon a course book that cost $200.
"That just seems too ironic," Casey said. Of course, many law school courses require expensive books — but this one made Casey think about what sets the study of poverty apart in a law school setting: "Poverty law is not its own, freestanding subject. It's really the influence of poverty in all other areas of law. That's not something necessarily that you can just read about."
One of the trends we are seeing is faculty thinking in really creative ways about how they can engage students in the life of the community outside the campus.
Being out in the community, though, "didn't lend itself to a traditional semester schedule," Casey explained. So she came up with an innovative format: Students would spend their weeklong spring break in an intensive study of poverty law in the city of Richmond. Each day, they toured different sites around the city and concluded with a class discussion with an expert lecturer at UR Downtown. The week ended with a student memo putting forth a proposal for how the city of Richmond could address poverty.
"One of the trends we are seeing is faculty thinking in really creative ways about how they can engage students in the life of the community outside the campus," said Terry Dolson, manager for community-based learning at Richmond's Bonner Center for Civic Engagement. "They are digging into the questions, 'How does the content of this course matter? Where is something related to these concepts happening right now?'"
One day found the class touring the I-95 corridor that divides the Jackson Ward community. Another took them to health clinics, a mobile home community, and local schools on different ends of the city of Richmond. The students quickly found that the format of the learning experience was just as important as the subject matter.
"It is easy to look at statistics surrounding poverty and imagine them as just numbers on a page," said Benjamin Dessart, L'17. "These numbers translate to desks at a school, meals on a table, or a roof over someone's head."
Still, the course was about more than witnessing poverty. Casey wanted students to better understand the roles law and policymaking can play in creating, sustaining, or ameliorating that poverty. That's not a small task: "You have to dig deeper in order to understand how these laws and policies affect people living in poverty," Casey said.
Take the education system. "When you have schools that have 96 percent of their population on a free or reduced lunch, those schools have to address issues of poverty in their policies and procedures," Casey explained.
In the course, students looked at how schools take on those policies and procedures through the lens of the Individuals with Disabilities Education Act, which guarantees students a free and appropriate education.
"What does that mean in a school where you have such disparate economic indicators, or in schools where those economic indicators also intersect with a higher percentage of students with learning disabilities?" Casey asked. "There's not a clear line between law and poverty, because poverty is just as complex as the law.
After visiting local schools, students participated in a discussion about education led by Rachael Deane, L'10, legal director for the JustChildren program at the Legal Aid Justice Center.
"The site visit made the course richer," Deane said. "It's important for lawyers and law students to witness not only the landscape of poverty in Richmond, but also the vast differences in access to education, housing, employment, banking, and public transportation based on where one resides."
Focusing on the local community and making Richmond the focal point for the course of study were important goals to Casey.
"We study so much about these issues and these policies and these laws, but we take them on a national perspective," Casey said. "We don't necessarily look to our own community for the representation of these policies."
But by traveling one mile from the law school to see discrepancies in education, or by visiting the City Hall Observation Deck to look at neighborhoods in a five-mile radius where there's a 20-year mortality difference, that opportunity gap "is impossible to ignore," Deane said.
The course also connected the dots between theory and practice. Bridging that gap, Dolson said, is the entire point of taking teaching out of the classroom.
"Complicated, real-life problems test the boundaries of theory," Dolson said. And in the end, "students are amazed that what they had considered 'just academic' can provide them with the skills and knowledge they need to participate in civic and professional life."
Emily Cherry is director of communications for Richmond Law.