In his memoirs published this spring, Henry Marsh III describes and reflects on his path from a young boy educated in segregated schools to one of Virginia's greatest champions for civil rights. The memoirs are edited by Danielle Wingfield-Smith, L'14, and Richmond Law professor Jonathan K. Stubbs. Stubbs also provided the book's epilogue, which here serves as an introduction. An excerpt from Marsh's memoir follows, with minor changes to match this magazine's style guide.
From the epilogue by Jonathan K. Stubbs:
In December 1933, three momentous events took place. Oliver White Hill took the Virginia State Bar and passed it. His bar review study partner Samuel Wilbert Tucker (S.W. Tucker)(pictured below, on right) sat for the bar and passed it, too. Last, but certainly not least, in the segregated St. Phillip's Hospital in Richmond, Virginia, Henry L. Marsh III (below, left) was born. Oliver Hill helped to found the Virginia State Chapter of NAACP Branches. He quickly attacked Jim Crow and racial discrimination in the legal system. Among many accomplishments, Hill became the founding president of the Old Dominion Bar Association, chair of the Virginia NAACP legal staff, and one of the first blacks to hold elective office in the South following Reconstruction. Hill was also co-counsel in Davis v. School Board of Prince Edward County, one of a quartet of school desegregation cases which the Supreme Court consolidated into Brown v. Board of Education.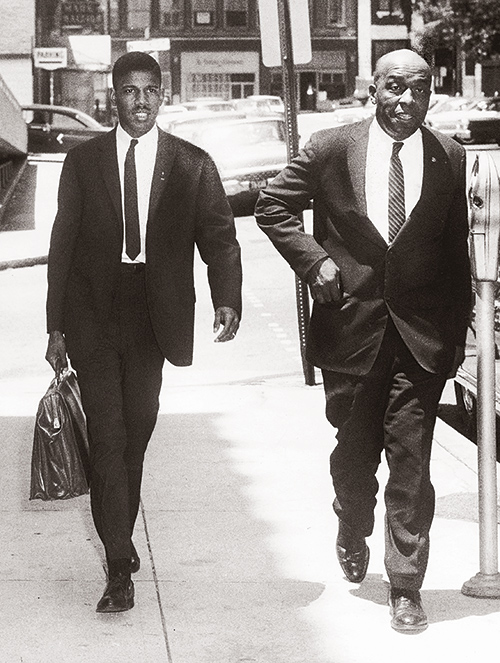 When S.W. Tucker passed the bar, he was too young to be admitted. The next year, Tucker began a nearly 60-year legal career which revolved around civil rights litigation and social activism. Like Hill, Tucker served during World War II in the European theater in a segregated army. He fought valiantly so that others could enjoy freedom which the law denied to him. Tucker returned to the United States determined to complete the fight for his own freedom and that of many others.
Along with Hill and a number of other courageous lawyers, Tucker served as a member of the Virginia NAACP legal staff. The staff was a voluntary association of African-American lawyers around the state of Virginia who responded to requests from NAACP members for legal assistance, particularly when the law was used to squash the enjoyment of freedom and equality. S.W. Tucker became the lead lawyer in one of the most significant post-Brown cases, namely Green v. School Board of New Kent County. Decided in 1968, 14 years after Brown, the Green case established that local school authorities had to come forward with desegregation plans realistically designed to work now.
During this period, other members of the Old Dominion Bar Association were doggedly fighting to hold America's proverbial feet to the fire so that liberty and justice for all would not just be a high-sounding slogan but a practical reality. So, for instance, Roland "Duke" Ealey and Hermann Benn represented Ford Johnson, who refused a judge's order to sit in the black section of a segregated Richmond, Virginia, courtroom. Ealey and Benn were successful in persuading the United States Supreme Court to ban segregated courtroom seating. Similarly, Joseph A. Jordan Jr. argued Harper v. Virginia State Board of Elections, which struck down the poll tax, one of many devices used by American oligarchs to maintain a small electorate for their benefit, as opposed to the common good.
These and other lawyers were joined, encouraged, and shielded by a sea of lay persons. Many individuals at the grassroots level offered support in low-key, virtually anonymous ways. Sometimes financial resources, other times insight regarding local community conditions, and yet other times safe physical and emotional spaces were all part of local community support.

Some community leaders were better known — for instance, W. Lester Banks, the executive secretary of the Virginia NAACP State Conference, Dr. Jesse Tinsley, president of the Virginia NAACP, and the Rev. Francis Griffin, pastor and community spokesperson in the Prince Edward Schools case. Together, members of Virginia's African-American communities, along with some courageous progressive whites, confronted the entrenched, mainstream segregationist views of religious, political, and business leaders. Such individuals believed and advocated racial segregation often on widespread beliefs in white supremacy — especially that desegregation would lead to widespread interracial sexual relations. Mixed offspring, white supremacists feared, would pollute white communities and destroy the white race. Perhaps one of the most striking examples of such a perspective was proclaimed in 1965 in a judicial opinion by Circuit Judge Leon Bazile, who stated, "Almighty God created the races white, black, yellow, malay [sic], and red, and he placed them on separate continents. And but for the interference with his [arrangement], there would be no cause for such marriages. The fact that he separates the races shows that he did not intend for the races to mix."
On this basis, Judge Bazile refused to modify his earlier decision to convict Mildred Jeter Loving and Richard Loving of a felony because they had the nerve to marry one another. It happened that Mildred Jeter Loving was a woman of color and Richard Loving was a white man. The Lovings endured scorn, ridicule, and threats of physical violence emblematic of the malice underlying America's racial caste system.
Henry L. Marsh dared to challenge such bigotry. He had his hands full.
An excerpt from Marsh's memoir
From Chapter 1, "Backlash Against Brown: The Segregationist Empire Strikes Back"
[In 1955], the Virginia General Assembly debated a proposal to fund nonsectarian and private schools. While the debate took place, I was president of the Virginia Union University Student Government Association. When I read in The Richmond News Leader that the General Assembly was planning to hold public hearings on the proposal, I decided to testify on behalf of Virginia Union University students.
I said to the other student government officers, "You all want me to testify at the General Assembly on behalf of the students tomorrow, don't you?" They readily agreed that it would be a good idea for me to go to the General Assembly to represent the students. The next morning, November 30, 1955, I was one of about 38 speakers and the only student who testified.
Attorney Oliver Hill led the opposition to the Virginia General Assembly proposal, which attempted to do an end run around Brown v. Board of Education by using taxpayer money to fund private, segregated schools.
Mr. Hill thundered, "We will beat you!" I could see the veins on the side of his head throbbing.
At the time Mr. Hill addressed the General Assembly, he was a well-seasoned civil rights lawyer. Born May 1, 1907, Mr. Hill had spent his early years in Richmond before his mother and stepfather moved first to Roanoke and later to Washington, D.C. He had attended and graduated from Howard University, first as an undergraduate and later as a law student. He was greatly influenced by the superb Howard Law School Vice Dean Charles Hamilton Houston, who taught his students that a lawyer who was not a social engineer was a parasite upon society. At Howard Law, Mr. Hill had met Thurgood Marshall, and they were not only classmates at Howard University Law School but also lifelong friends. When I heard Mr. Hill address the General Assembly, he and his law partners, Spottswood Robinson and Martin A. Martin, had already litigated teacher salary and school facility equalization cases, as well as transportation desegregation cases. Robinson had argued the Prince Edward, Virginia, school desegregation case, which was one of the four cases consolidated as part of the Court's decision in Brown. Robinson would later become dean of Howard Law School before serving many years as a distinguished federal judge. Incidentally, all three of these lawyers were Howard Law School grads and had to varying degrees been influenced by Charles Houston.
I was inspired by Mr. Hill's presentation. He was quite a courageous figure, particularly since nearly all of the members of the General Assembly were white men, and many of them were elderly. I admired Mr. Hill for standing up in the joint session of the Virginia General Assembly on behalf of the NAACP and shaking his fist at Virginia's legislators. If they did not obey the Court's mandate in Brown v. Board of Education and desegregate, Mr. Hill thundered, "We will beat you!" Mr. Hill spoke passionately. I could see the veins on the side of his head throbbing.
I had never heard any black person speak to white folks like that. When Mr. Hill said emphatically, "We will beat you!" I ducked down in my chair.
I got up and made my speech on behalf of the student body. I was angry. I spoke from the gut. I had been brought up with interracial dialogue groups like the National Conference of Christians and Jews. Young white people and young black people like me were talking to one another. That inspired and impressed me. We were making progress and were on the cusp of making more. When Brown came, all of a sudden, many white folks cut out such dialogue among the youth.
The same thing happened with the Urban League; white people abruptly withdrew support from the Urban League. It was awful. I was frustrated. I read in the paper what was going on and realized that these people who were engaging in so-called "massive resistance" were acting unlawfully. So I expressed my indignation at this behavior. I said it was wrong. On behalf of the students, I said, "It's our country and you shouldn't do this. You should follow the law. It's our future." We, the people, didn't want this.
When I finished, Oliver Hill came over and patted me on the shoulder. He said, "Good talk, young man." I replied, "Yours wasn't too bad either, sir."
Mr. Hill then asked, "What are you going to do when you grow up?"
I said, "I want to be a lawyer."
Henry L. Marsh III is a retired civil rights attorney. He was Richmond's first African-American mayor and served in the Virginia Senate for 22 years. In March, the Black Law Students Association hosted him on campus for a book signing.