Downed trees and splintered branches floating among debris-cluttered floodwaters. City streets cloaked under feet of pooled water. Makeshift boats and kayaks captained by survivors paddling through the floodwaters in search of lost belongings.
We're familiar with the aftermath of a hurricane or severe storm. However, few stop to think about what's actually contained in those waters.
When a severe weather event like a hurricane tears through an industrial area, flooding introduces a slew of new health risks and other problems. Industrial zones contain a variety of facilities, stored materials, and chemical storage tanks — and storms are undiscerning in what they destroy.
The waters left from the wreckage are referred to as "toxic floodwaters," storm-induced flooding that contains myriad contaminants — including oil, industrial waste, solvents, toxic metals, and more.
Noah Sachs, Richmond Law professor and director of the Robert R. Merhige Jr. Center for Environmental Studies, focuses his scholarly pursuits on the threats posed by toxic floodwaters. Through his work, Sachs hopes to glean a more holistic understanding of these threats as he advocates for the changes needed to prepare for climate-driven disasters and protect communities.

CHEMICAL COLLISION
Sachs' focus on toxic chemicals began in law school when he wrote an article published by the Columbia Journal of Environmental Law. His research focused on endocrine disruptors — chemicals that get into human bodies and mimic organic hormones, causing birth defects and developmental abnormalities. With something so significant subject to such limited regulation, Sachs saw the opportunity to propel change.
In 2014, Sachs wrote a report about Virginia's regulation of toxic chemicals, detailing its weaknesses in comparison to other states. His research found that while states have broad authority over the methods used to store and dispose of hazardous chemicals, Virginia defers much of this autonomy to federal regulations.
A significant takeaway from the report was information about the lack of state standards for chemical storage tanks. Sachs found that these tanks are often located within a few feet of major rivers because of historic patterns of industrial development. Virginia has a multitude of regulations in place for oil storage tanks to prevent spills, but Sachs noted an absence of oversight for chemical storage tanks, even though many chemicals are far more hazardous to human health than oil.
"There are no standards for these tanks, how often they're inspected, or where they can be located," Sachs said.
Whether a small agricultural supply center or a huge chemical plant, there are no formal storage regulations in place. Pesticides and chemicals can be stored with no more oversight or caution taken than with the storage of grain in a silo.
The 2014 report's publication coincided with a major chemical spill in Charleston, West Virginia. A private company owned chemical storage tanks on a bank just above the Kanawha River, the city's major waterway. The tanks stored toxic chemicals used in the coal mining industry and unbeknownst to local officials, one of them corroded.
"Essentially, 7,500 gallons of a toxic chemical leaked into the river before anyone noticed — right upstream of the city's drinking water intake," Sachs said.
Unprepared for this catastrophe and suddenly without clean water, the city and surrounding counties were forced to shut down for a week. Then-West Virginia Gov. Earl Ray Tomblin declared a state of emergency and Charleston skidded to a standstill as emergency cleanup measures began.
Just three months after the spill, West Virginia passed major legislation addressing the regulation of chemical storage. The law required tank owners to regularly take inventory and report contents to the state and imposed standards for the placement and construction of storage tanks.
We've been overconfident in our ability to respond to these storms.
Though West Virginia enacted legislation at a whirlwind pace, Virginia lawmakers failed to see the incident as a warning sign. Sachs met with legislators and argued for new legislation within the commonwealth, beginning with an inventory of all chemical storage tanks in Virginia.
"Our neighboring states were so quick to pass comprehensive legislation, and we need to do the same," he said. "Charleston is just one example of what could happen due to lax regulation of chemical storage.
"But the response I got was: 'Yeah, but that was West Virginia.'"

PRESSING THE ISSUE
The Charleston chemical spill crippled an entire region without the impetus of a natural disaster. A few years later, the nation learned that the destructive forces of nature could make things even worse.
In 2017, Hurricane Harvey tore through a significant portion of the Gulf Coast, making landfall in Louisiana, ripping through Texas, and dumping around 19 trillion gallons of water in its wake. Devastation from high winds and debris was immediately apparent. But long after the hurricane passed, the toxic contaminants in the floodwaters remained, presenting lingering and significant health risks.
Health complications resulting from exposure to toxic floodwaters vary from acute and chronic illness to death. The outcome depends on many factors, including the contaminants themselves, their concentration in the water, and the vulnerability of the individuals affected.
Once hazardous substances enter the storm-induced floodwaters, however, very little time passes before they pose a serious public health threat.
"Houston and Galveston are really the heart of the chemical industrial complex in the United States," Sachs said. "As a result, Hurricane Harvey caused a toxic soup of floodwaters."
A year later, Hurricane Florence hit the eastern corridor of the country. It swept through North Carolina, and while the areas affected were not heavily industrialized, they faced another concern.
"The big problem there is animal manure from factory farming," Sachs said. "These are huge 
outdoor lagoons full of animal manure — the size 
of football fields. When hurricanes come through, the waste gets out of these pits and into 
the water."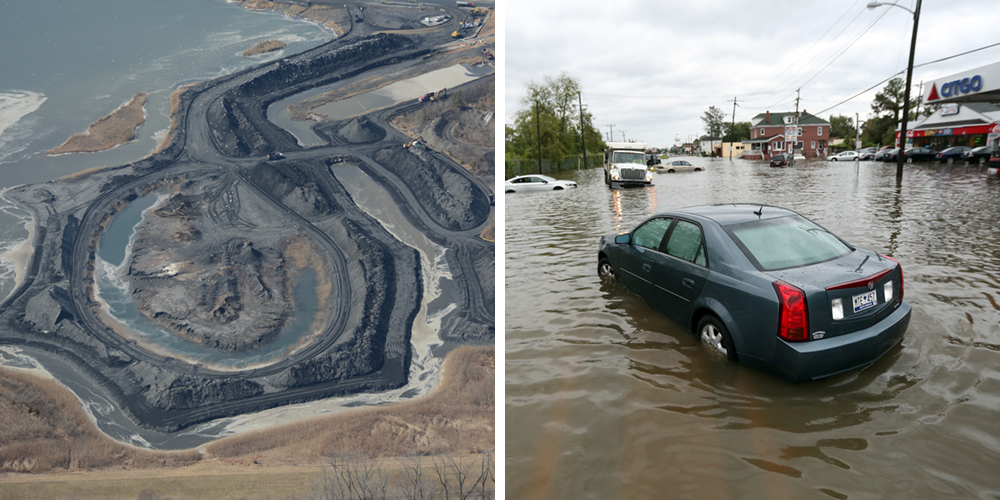 Hurricane Florence's initial projected path had Virginia squarely in its sights, but the storm missed the commonwealth. Sachs doesn't see the state's good fortune as a reason to postpone preparing for disaster.
"We've been overconfident in our ability to respond to these storms," Sachs said. "In Virginia, there has been no legislative response to the floodwater incidents from Hurricanes Florence 
or Harvey."

PUTTING IT IN WRITING
In late 2017, the Center for Progressive Reform (CPR) approached Sachs about partnering to conduct follow-up research on Florence, Harvey, and toxic floodwaters.
Based in Washington, D.C., the small nonprofit uses expansive partnerships to work toward sophisticated change within environmental law. CPR works with 60 member scholars — professors of environmental law throughout the country — who leverage this partnership to amplify their messages and get their research in front of policymakers on Capitol Hill and in federal and state agencies.
Following Florence and Harvey, the organization decided to focus its research on facilities along the James River. Although the area was unaffected by the recent hurricanes, examining a single watershed would give the team insight into other locations with chemical facilities and risk of flooding.
This research investigated industrial facilities along the James River, examining three key areas: the facilities' tolerance for heavy rainfall events; their exposure to storm surge from a hurricane; and their elevation. While rainfall events and hurricane risk are near-term, the potential rise in sea level looks many years into the future.
Sachs partnered with David Flores, a CPR policy analyst, to research and prepare the report. Flores specializes in environmental law, having spent years working for a local watershed nonprofit and managing projects connecting both water quality monitoring and Clean Water Act compliance.
With this research, "We set out to trigger a public dialogue about the risks facing Virginians, especially those already most vulnerable to disaster and disproportionately harmed by industrial pollution," Flores said.

OPENING THE FLOODGATES
In early 2019, Sachs and Flores published their findings in the report Toxic Floodwaters: The Threat of Climate-Driven Chemical Disaster in Virginia's James River Watershed.
Sachs' and Flores' analysis of the James River watershed unearthed some alarming results. Of the more than 2,700 industrial facilities regulated under federal and state laws for toxic chemicals, they found 1,095 were flood-exposed from rainfall, hurricane storm surge, or sea-level rise. More than 473,000 Virginians live in the census tracts that contain the facilities, with concentrations in the Richmond and Hampton Roads metropolitan areas.
Sachs and Flores also found that 234 facilities would be flooded by future sea-level rise between 1 and 5 feet. Nearly 100 of those would be flooded by 1 foot, which climate scientists anticipate will occur no later than 2050.
The pair identified myriad hazardous substances stored within these facilities, including toxic metals, carcinogenic and flammable petroleum products, corrosive acids, and pesticides.
A lot of these chemical exposure issues have to be addressed at the global level ... Ignoring the problem will threaten lives, livelihoods, and entire communities.
"One thing that surprised us was the sheer number of flood-exposed hazardous chemical facilities located in socially vulnerable communities," Flores said. "One in six residents of the watershed live in communities threatened by chemical hazards. The lack of spill prevention controls for some of the facilities was striking, as was the fact that many chemical storage tanks are totally unregulated and unregistered by the commonwealth.
"We're allowing industry to place great quantities of toxic chemicals in the path of possible flooding," he added. "That's a disaster waiting to happen, and climate change is making the disaster all the more likely."
According to Sachs, we've already begun to see the fallout, and we needn't look further than the aftermath of Hurricane Harvey.
"In Houston, there's still contamination in people's homes, even as the floodwater receded over a year ago," he said. "An entire city could be flooded, and those floodwaters pose a huge threat to human health. The first priority should be preventing chemical disasters in waters used for drinking by our cities and towns."
Sachs reports weather disasters are on the rise and will likely only continue to escalate as hotter temperatures bring more moisture into the air. Over the last 30 years, the world has begun to experience the accelerated consequences of climate change. There's been a documented rise in sea level, more and more summer-day temperatures exceeding 90 degrees, and heavier rainfall events. In Richmond, 2018 was the wettest year since the 1880s as measured by rainfall and snow.
"Because of climate change, extreme storms and floods are becoming more likely," Sachs said. "By 2050, we're going to see many more catastrophic effects of climate change.
"We're going to see hurricanes of more intensity, and we're going to see rising seas," he added. "That's why this work is so important."

LOOKING UPSTREAM
Sachs and Flores ultimately found that Virginia is "simply not prepared to prevent or respond to toxic floodwaters."
Their report concluded that chemical handling and storage in Virginia are controlled by a patchwork of laws, both federal and state. Toxic floodwaters and the harmful consequences of after-storm flooding have never risen high enough on policymakers' collective priority list, so Virginia's governing standards remain quite weak. There is no law that specifically addresses toxic floodwaters prevention and cleanup.
It's not all bad news, though.
"I have to give credit to Gov. [Ralph] Northam for establishing an executive order on climate change adaptation and appointing a chief resilience officer," Sachs said. "Both of these are firsts for Virginia. I think it's fair to see them as Virginia's response to the issues of adapting to sea-level rise and severe storms.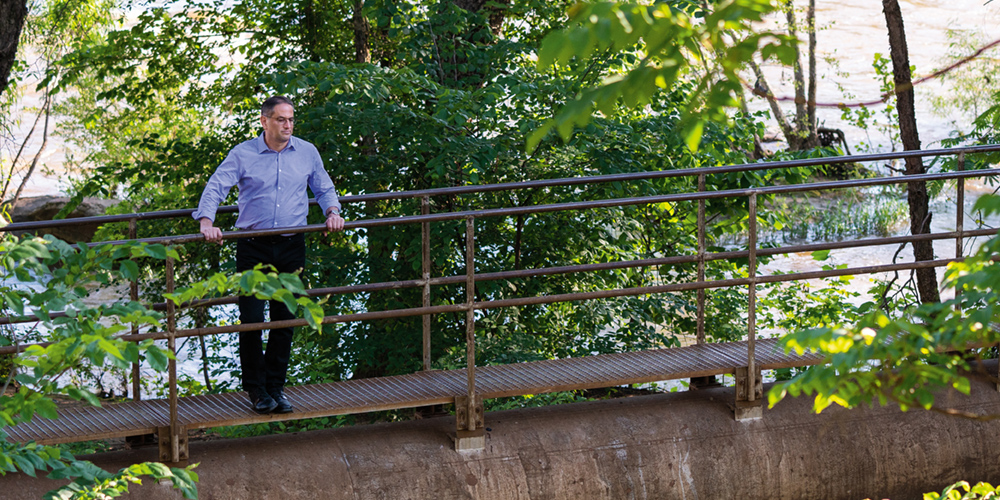 "We've asked for more transparency on the issue," he continued. "The public has a right to know about the chemical risks in their communities. In some cases, we're talking about contamination risks from a warehouse or small manufacturing plant only 20 or 30 feet away from homes."
Sachs and Flores are not only working with government officials and policymakers in their efforts. The pair is receiving grassroots support from partners and advocates lobbying for collaborative change.
"We hope to build on this report by working directly with allies and the communities in Virginia challenged by climate risks and industrial pollution to design and advocate for local and statewide policy solutions," Flores said.
Sachs is committed to instilling in the public a more comprehensive understanding of this problem. In addition to the Toxic Floodwaters report, which is aimed at policymakers, he works to inform his peers within academia about toxic chemicals, which can travel through air, water, or the food supply. His forthcoming chapter in the Oxford Handbook of International Environmental Law, for example, explores several treaties that govern the production and disposal of toxic chemicals. And through his work as the director of the Robert R. Merhige Jr. Center for Environmental Studies, he organizes conferences, hosts fellow environmental scholars and guest speakers, and travels to spread the word.
"A lot of these chemical exposure issues have to be addressed at the global level," Sachs said. "Here in the United States, it will be challenging to prevent all toxic floodwaters incidents, given the sheer quantity of facilities that pose a threat.
"But ignoring the problem will threaten lives, livelihoods, and entire communities."
Brian Ivasauskas is the assistant director of marketing in University Communications at the University of Richmond.