The Hon. Robert R. Merhige Jr., L'42, decided dozens of nationally significant cases and countless routine ones during his 31 years on the federal bench. But one case is usually mentioned first in descriptions of his career and legacy: his January 1972 decision requiring the merger of Richmond City Schools with the districts in surrounding Henrico and Chesterfield counties. It was one of 40 school desgregation cases he decided over his career, but it was the defining one.
In his decision, he ruled that the commonwealth of Virginia's obligation to integrate its schools in light of the Brown v. Board of Education decision overrode local jurisdictional lines. The highly controversial ruling — which ordered a regional, city-county busing plan — was designed to neutralize the effects of white flight to the suburbs in response to a busing program within the Richmond City Schools that he had ordered several years earlier.
Merhige's docket attracted high-profile cases throughout his career. Among the most notable: He ordered the admission of women to the University of Virginia in 1970, presided over cases of Klansmen and Nazis accused of killing political opponents, fined Allied Chemical for polluting the Jamer River with an insecticide, tossed out the appeals of G. Gordon Liddy and other Watergate defendants, and oversaw the bankruptcy reorganization of the A.H. Robins Co. and the creation and administration of the Dalkon Shield Claimants Trust.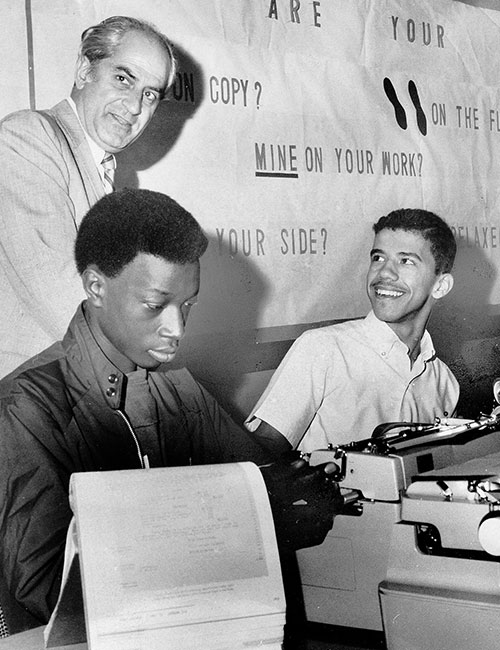 Merhige had aimed for a life in law from a very young age. "I have no recollection of ever wanting to be anything but a lawyer," he told his biographer, Richmond Law's Ronald J. Bacigal, now a professor emeritus. He took a winding path to get there.
Although he became one of Richmond Law's most notable graduates, he came to the school almost by happenstance, according to Bacigal. A native New Yorker and self-described lackluster student, Merhige attended High Point University on a basketball scholarship, paying little attention to academics. After graduation, he relocated to Richmond to coach at a local prep school and figured he'd go to law school at William and Mary.
"You can't do that," his new boss told him, pointing out the 120-mile roundtrip commute. "I think there may be a law school over at the University of Richmond."
Thirty years after graduation, when Merhige made the 1972 desegregation ruling, he was "the most hated man in Richmond," The Washington Post wrote in his 2005 obituary. He and his family required round-the-clock protection from U.S. Marshal Service for a time, were subjected to threats and arson by segregationists, and endured weekly protests outside their home.
The public reaction reportedly perplexed and disappointed Merhige. "I thought people would say, 'We don't like the little S.O.B., but he's following the law,'" he later told the Richmond-Times Dispatch. "That didn't happen."
Merhige's 1972 ruling was ultimately not the groundbreaking step supporters hoped it would be. It was reversed after six months, a rarity in a career in which Merhige's rulings were overturned less than 5% of the time. The U.S. 4th Circuit Court of Appeals rejected it in June 1972 and later invalidated most busing across city-county boundaries, according to the Virginia Museum of History and Culture, preserving the conditions that led to worsening de facto school segregation that endures today.
Merhige's papers, many of which are held by Muse Law Library, capture some of the public reaction to his 1972 ruling through the letters that he received. As the following sampling shows, citizens reacted in a range of ways, from admiring support to accusations of hypocrisy because his younger son attended a private school and would not have been affected by his ruling.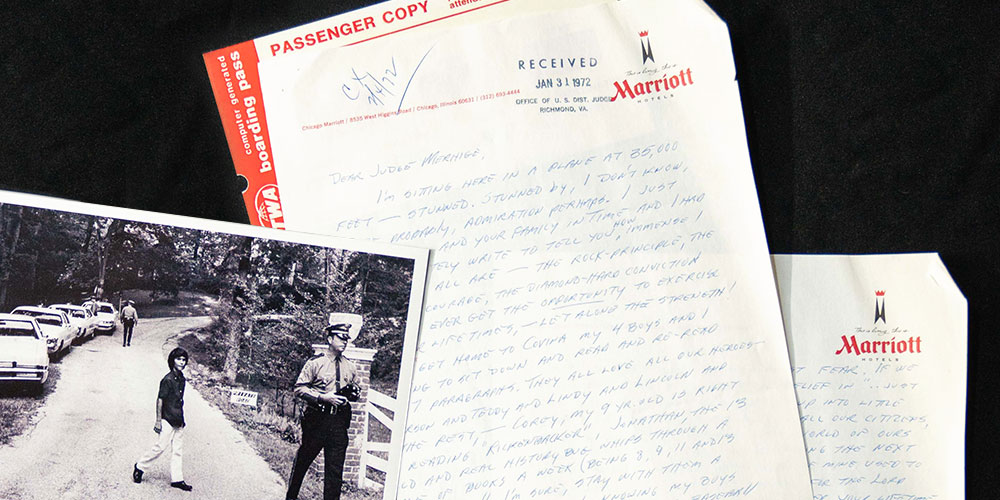 "I'm sitting here in a plane at 35,000 feet — stunned, stunned by, I don't know, pride probably, admiration perhaps. I just read of you and your family in Time and I had to immediately write to tell you how immense I think you are — the rock-principle, the enormous courage, the diamond-hard conviction that few ever get the opportunity to exercise in their lifetimes, — let alone the strength! ... If we could only take your gigantic belief in "... just follow the law ...", and cut it up into little pieces, spreading it around to all our citizens, what a wonderful utopia this world of ours would be."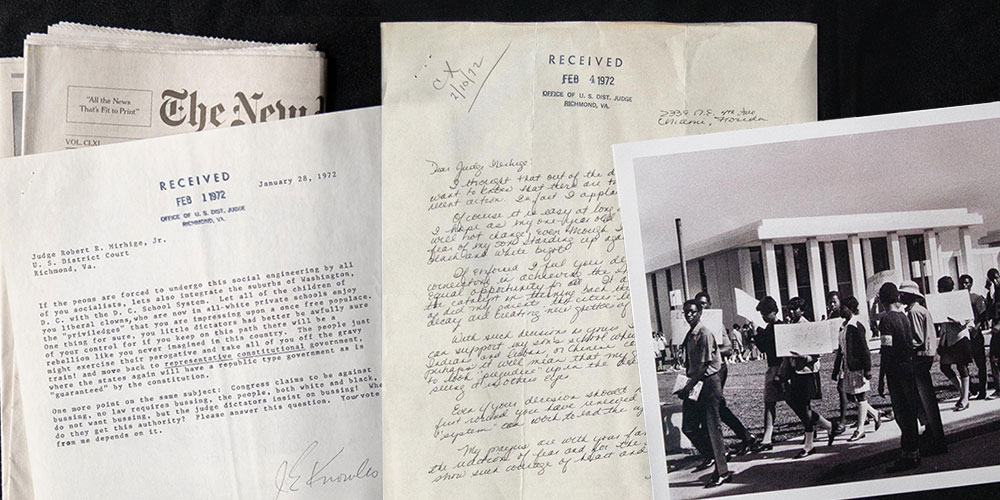 (Above left) "If the peons are forced to undergo this social engineering by all of you socialists, let's also integrate the suburbs of Washington, D.C. with the D.C. School System. Let all of the children of you liberal clowns, who are now in all-white private schools enjoy the "priviledges" that you are impressing upon a once free populace. One thing's for sure, you little dictators had better be awfully sure of your control for if you keep on this path there will be a rebellion like you never imagined in this country."
(Above right) "I thought that out of the depths of hate rings you might want to know that there are those who support your recent action. In fact I applaud your courage.
... If enforced I feel your decision will be a major cornerstone in achieving the American dream of equal opportunity for all. It also may prove to be the catalyst in turning back the tide of whites fleeing, as did my parents, the cities, leaving only rot and decay and creating new ghettos of hopelessness.
... Perhaps it will mean that my grandchildren will have to look "prejudice" up in the dictionary instead of seeing it in others' eyes."
(Above left) "You were far-sighted and we LIKE your decision. We are a white family living in the city with our school-age daughters. Because we firmly believe in the neighborhood school system, we have remained in the city rather than move to the suburbs. ... We preferred that our children walk to school and moved close to schools for this reason. ... This decision was made long before the busing situation.
... Last year we opposed busing unless it accomplished its purpose. It's an old story now that busing of the city school children did not achieve racial balance.
... However, it is indeed ironic that the white county residents who oppose "busing" so vigorously now, did not oppose it last year when the city children were first "bussed"; they did not oppose it all the years of their lives previously because white county school children have always been "bussed"; ... These county residents, whose children have always been bussed, suddenly oppose bussing their children.
Whatever the outcome, your decision was fair, forthright and brave."
(Above right) "We the members of A.M. Davis Elementary PTA hereby affirm that we will not relinquish our rights as parents to determine the health, education and welfare of our children.
We will not bus our children to any school other than our neighborhood school as designated by the 1971–1972 pupil placement procedures.
We not only deplore the arrogant actions of the 4th District Federal Court on this issue, but we refuse to cooperate with its consolidation order."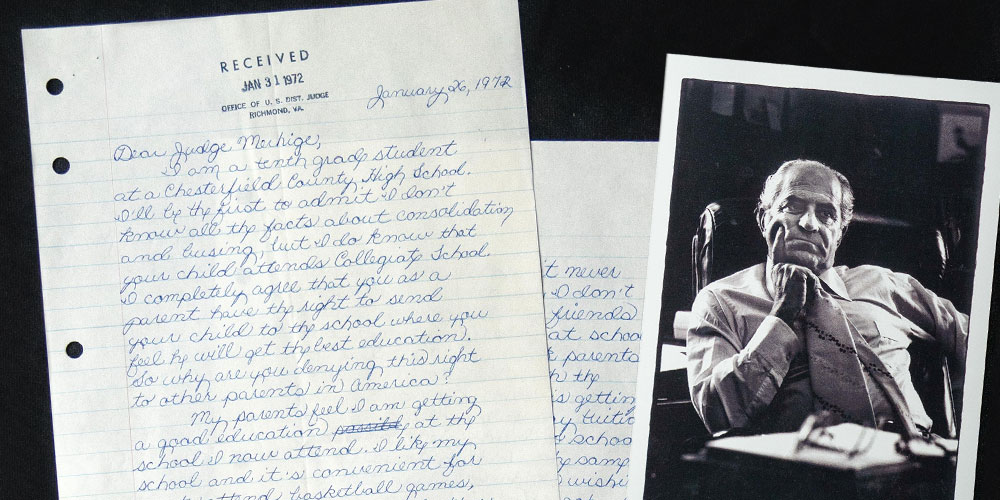 "I am a tenth grade student at a Chesterfield County High School. I'll be the first to admit I don't know all the facts about consolidating and busing, but I do know that your child attends Collegiate School [a private school]. I completely agree that you as a parent have the right to send your child to the school where you feel he will get the best education. So why are you denying this right to other parents in America?
... I feel that any black parents who aren't satisfied with the education their child is getting should be allowed to pay tuition and send their child to school in the counties. ... I know that most black families couldn't afford this however, so why don't you have their tax money, that would go to the city schools sent to the counties. This would cover the cost of a city child's education, in the counties.
I'm sure if you were told your child must attend Mosby Middle School [a public school in Richmond], you would feel as if your rights as a parent had been violated and the government had taken over your child. Why can't you practice what you preach? Or should I say, dictate?"