Andy Burcher, L'97, begins a conversation about his work debunking the common misconception that working for the Navy Reserve is a part-time job. It may be for some, but what Burcher's been doing for the past two years is very much a full-time responsibility: He's in charge of submarine operations for NATO.
Burcher has spent his professional life as an attorney in the civilian world, practicing since 2006 at Walsh Colucci Lubeley & Walsh in Prince William, Virginia. But he's also a 1988 U.S. Naval Academy graduate who has served for most of his career as a Navy reservist, rising over the course of two decades to the rank of rear admiral. For those not familiar with the often-complicated workings of the U.S. armed forces, the term "reservist" might confuse things, implying as it does little more than occasional weekend duties. But wearing an admiral's two stars, managing many billions of dollars' worth of strategic military assets, and commanding personnel from dozens of nations requires full-time attention.
 Since taking a leave from the law firm to return to active military duty in 2019, Burcher has provided just that. In July, he wraps up a two-year stint as commander of NATO submarines and deputy chief of staff for submarines at NATO's Maritime Command Headquarters (MARCOM) near London. From there, after a well-earned month off, he'll return to reserve status and shift his focus back to clients in his firm's litigation and commercial business group. It's a jarring transition, swapping duties with massive geopolitical implications for the casework of commercial litigation and real estate proceedings. Burcher says he's made it work by finding the common ground between the two.
"I like to say I treat the reserves like a client — a really good client," he says. "It's been the only client I've had straight through since 1999."
It's late April, and Burcher is in Norfolk, Virginia, sitting in a nondescript hotel room in his khaki Navy working uniform, recounting via a Zoom call how he's balanced his parallel careers. His role at MARCOM took him to Great Britain, where he was stationed for most of the past two years, but the Alexandria, Virginia, native is ending his NATO stint back on (nearly) home turf, leading the evaluation process of the recently established Joint Force Command Norfolk — hence the temporary digs. As he talks about his time in the reserves and the temporary recall to active duty that brought international relocation and daunting responsibility, Burcher's pride is evident.
That sense of duty dates to his days at Annapolis, Maryland, and it never really waned. He graduated from the Naval Academy in 1988 with a degree in mechanical engineering, then chose to fulfill his five-year active-duty commitment on submarines. He deployed on a succession of Los Angeles-class fast-attack nuclear subs, including serving on the commissioning crew of the USS Alexandria (SSN-757), named for his hometown. He later taught submarine tactics at the Naval Submarine School in New London, Connecticut.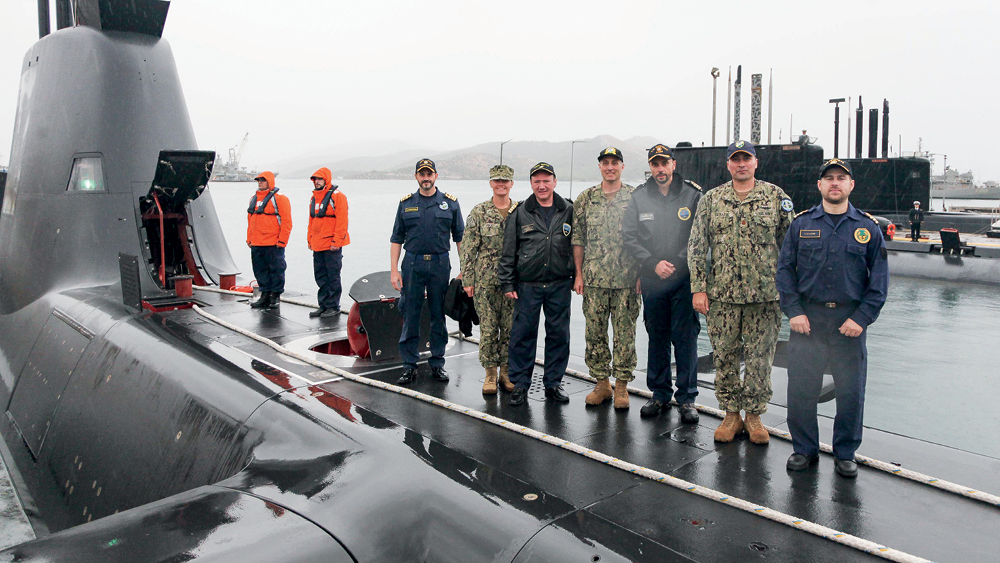 These were the years immediately following the end of the Cold War, when military downsizing meant suddenly far fewer opportunities for career-minded service members. That very much included a submarine force focused primarily on the fading threat from the former Soviet Union: In the early to mid-1990s, the Navy's submarine fleet was essentially halved. "There really weren't jobs," Burcher says, a fact that drove his decision to step away from active duty.
He switched gears, earning his MBA from Rensselaer Polytechnic Institute in 1995, then returning to his home state to complete his law degree at Richmond. Not long after, as he was working to establish his own practice, another attorney who was serving in the reserves encouraged Burcher to consider signing on. He says the hardest part was digging out his dusty service records, joking that the excavation was reminiscent of the cavernous warehouse scene at the end of Raiders of the Lost Ark. Otherwise, Burcher didn't need much convincing.
"I missed it," he says. "I missed serving my country, and I missed doing something I'd trained 10 years to do."
He was 32 at that point, busy with starting a family and establishing his law career, and it was impossible to predict how this new commitment would play out. But it felt good to scratch the itch — to put on the uniform and get to work in submarines again. "It demanded my time, it paid me, and it gave me a sense of satisfaction," Burcher says. "Instead of having a hobby, like woodworking or something, the reserve essentially became my hobby." One weekend a month, two weeks a year, just like the old recruiting slogan said. It would be understandable for anyone in that situation to think that might be enough.
I was doing about 180 days of time supporting the Navy at the same time I was billing 2,000 hours at my law firm. It was pretty crazy.
John Paul Jones remembers two things about the first-year student who took his civil procedure class a quarter century ago: He was impressed by Andy Burcher's intellect, and he was struck by the former submariner's height. "I remember that I looked up to him," Jones says, "and I'm 5 foot 10."
Jones, professor emeritus of law, is also a Navy veteran whose expertise includes maritime law. He hadn't been in contact with his former student until recently — and, for him, seeing a longtime reservist in a high-level NATO command role was a surprise, one he correctly deduced would be best explained by the Navy's increasingly integrated approach to its reserves.
As Burcher explains it, the post-Cold War era led to a switch in viewing the reserves less as a strategic force and more as an operational one — meaning "we're now much more integrated with the day-to-day activities of the Navy. We like to say we provide strategic depth in a knowledgeable fashion, so we need to be involved on a day-to-day basis."
That helps explains how a lieutenant serving part time could, over the course of 20 years, rise through the ranks to eventually earn a strategically vital and high-profile NATO command — officially, responsible for "operational tasking of submarines assigned to the alliance and support for multinational submarine safety." For Burcher, it started with those weekend and annual two-week stints as a selected reservist, when he would be flown out to an aircraft carrier to coordinate carrier-submarine operations. Even as he excelled in his law career, becoming a shareholder at Walsh Colucci Lubeley & Walsh, he was earning promotions and four separate commands in the reserves. In 2017, he was promoted to rear admiral, lower half, marking his selection as a flag officer — one of just 48 to hold the title in the 60,000-person Navy Reserve.
It was exciting, a huge honor — but also, Burcher admits, not exactly sustainable. "My duties greatly increased, so I was doing about 180 days of time supporting the Navy at the same time I was billing 2,000 hours at my law firm," he says. "I did that for a year and a half, even tried some cases. It was pretty crazy."
Sanity prevailed when Burcher was asked to come on active duty, a move he says his firm made easy by supporting what would essentially be a 30-month leave of absence — although not a complete absence: "Even while doing this, I still stay connected with the firm," he says. "You can't just go cold turkey. You have to maintain relationships." On Jan. 1, 2019, he went to the Pentagon for a six-month stint as vice director of Navy staff. That July, he relocated with his wife, Julia Riley, L'97, and their youngest son to London to begin his duties at MARCOM.
His role with NATO is at once expansive and simple. As Burcher puts it, "I am the person responsible for the operations of all submarines that are assigned to NATO." By design, the alliance doesn't have its own assets, relying instead on its 30 member nations, 24 of which have some maritime capacity, and 13 of which operate subs. Any submarine turned over to NATO in peacetime is Burcher's responsibility, as is the planning of how the vessels are used, from strategy to deployment.
On both counts, there is plenty to consider: tension between NATO members and Russia, the continued growth of China as a global superpower, climate change opening new shipping lanes, and contested drilling areas in the Arctic. Burcher can't be specific about much of it, of course, but even as he acknowledges the parallels between his chosen fields — litigation and warfare, forms of conflict with very different stakes — he emphasizes what he and his peers are working for.
"Ultimately, the goal of NATO is to deter aggressive action," he says. "If we never go to war, NATO has done a great job."
How he's accomplished that job has been dramatically altered by COVID-19. Before the pandemic, Burcher says he was away from his London headquarters "75% of the time" meeting with personnel from member countries. Pandemic-related travel limitations hampered his ability to build relationships with his professional peers, but he's proud that NATO has been able to hold its biannual anti-submarine warfare exercises through the pandemic.
What travel he's been able to do has been memorable — one trip in particular. In 2019, he was in Athens to meet with the Greek submarine force, a trip that included a private sunset tour of the Acropolis and, the following day, a spot aboard a Greek sub for a torpedo exercise. There, the Greek commander pointed out they were cruising over the sunken wreckage of ancient ships from the Battle of Salamis, fought between the Greeks and Persians in 480 B.C.
These are the moments he'll miss when his assignment is up, moments he can't re-create in a courtroom. But he has pride in his more typical work, and other moments are worth coming home for. With the family moving back to Virginia, his youngest son will have the chance to finish high school with friends, and the Burchers will be close to their oldest son, a student at James Madison University.
In April, the Burchers' oldest child, a daughter, was wrapping up her senior year at North Carolina State University. His face showed a different sort of pride when discussing her; two weeks later, Burcher was scheduled to commission her as a Naval ensign. The future aviator began flight school in May.